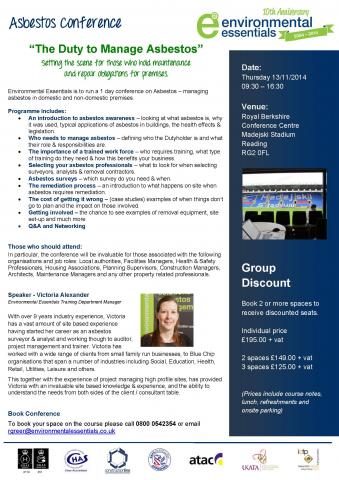 The Duty to Manage Asbestos"
Setting the scene for those who hold maintenance
and repair obligations for premises.
Environmental Essentials is to run a 1 day conference on Asbestos – managing asbestos in domestic and non-domestic premises.
Programme includes:
·An introduction to asbestos awareness – looking at what asbestos is, why it was used, typical applications of asbestos in buildings, the health effects & legislation.
·Who needs to manage asbestos – defining who the Dutyholder is and what their role & responsibilities are.
·The importance of a trained work force – who requires training, what type of training do they need & how this benefits your business.
·Selecting your asbestos professionals – what to look for when selecting surveyors, analysts & removal contractors.
·Asbestos surveys – which survey do you need & when.
·The remediation process – an introduction to what happens on site when asbestos requires remediation.
·The cost of getting it wrong – (case studies) examples of when things don't go to plan and the impact on those involved.
·Getting involved – the chance to see examples of removal equipment, site set-up and much more
·Q&A and Networking
Those who should attend:
In particular, the conference will be invaluable for those associated with the following organisations and job roles: Local authorities, Facilities Managers, Health & Safety Professionals, Housing Associations, Planning Supervisors, Construction Managers, Architects, Maintenance Managers and any other property related professionals.
Speaker - Victoria Alexander
Environmental Essentials Training Department Manager
With over 9 years industry experience, Victoria has a vast amount of site based experience having started her career as an asbestos surveyor & analyst and working though to auditor, project management and trainer. Victoria has worked with a wide range of clients from small family run businesses, to Blue Chip organisations that span a number of industries including Social, Education, Health, Retail, Utilities, Leisure and others.
This together with the experience of project managing high profile sites, has provided Victoria with an invaluable site based knowledge & experience, and the ability to understand the needs from both sides of the client / consultant table.
Book Conference
To book your space on the course please call 0800 0542354 or email rgreer@environmentalessentials.co.uk