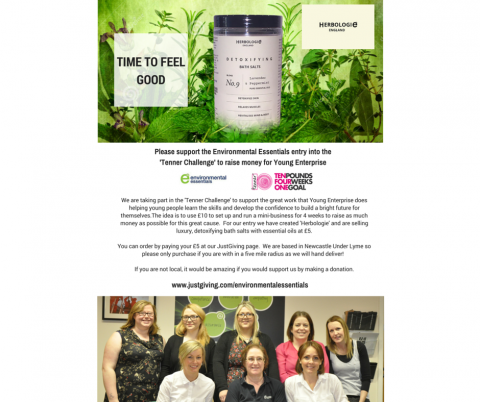 We are really pleased to be involved with raising funds for Young Enterprise by entering the 'Tenner Challenge'.   Young Enterprise does fantastic work to empower young people by helping them develop the  skills and attitudes they need realise their hopes and aspirations for a successful future.  It's a tough world out there and with out help, many young people face the prospect of unemployment.  Young Enterprise is all about helping young people reach their potential.   It's a great cause and we want to raise as much possible - please help us if you can.
Take a look at what we have been doing for our entry.  The team usually responsible for our online Asbestos Awareness Training have turned their hands to producing a range of luxury bath products. We have spent our weekends knee-deep in Epsom and sea salt, to produce our luxury detoxifying bath soak.
We are selling our bath salts for £5 for 350g jar.  You can buy some by donating £5.00 on our JustGiving page and leaving us a note telling us where to deliver them to.  Please only order if you are within 5 miles of Newcastle-under-Lyme - we don't have a postage and packing option, so we will be hand delivering.
If you are not local, you can still support  us by making a donation, which at the risk of sounding cheeky, can be for more than a fiver!
Thanks for your support.