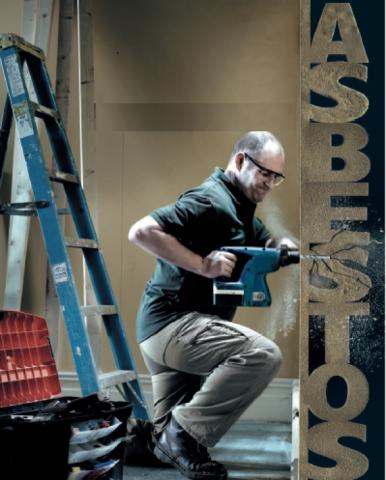 Tradesmen – Don't put yourself or those around you at risk!
According to the Health and Safety Executive (HSE), asbestos kills around 20 tradesmen each week, including 8 joiners, 6 electricians and 4 plumbers. Workers involved in the maintenance, refurbishment and other similar trades are the group most at risk when it comes to contracting an asbestos related disease. Anyone who works on the fabric of a building is at risk, which includes the following professions:
o Heating engineers, plumbing engineers
o Roofers, joiner, carpenters
o Electricians, telecoms engineers, data installers
o Architects, building surveyors
o General maintenance or refurbishments – shop fitters, caretakers
o Any other trade or activity that may disturb or alter the fabric of a building. 
Any building built before 2000 may contain asbestos containing materials. If you disturb materials that contain asbestos, you are putting yourself, and anyone who uses that area at risk. You may also be putting your loved ones at risk if you contaminate your clothes with asbestos fibres and take them home with you.
The risk of inadvertent exposure is enhanced by the fact that asbestos fibres are invisible to the naked eye, there are no immediate symptoms, and asbestos diseases can remain latent for up to 60 years. However, the hardest hitting fact about asbestos exposure is that there is no outright cure. In fact, there is a life expectancy of only 12 months from diagnosis of Mesothelioma, the most severe form of asbestos related cancer which affects the lining of the lungs.
Take responsibility and protect yourself and those around you, now!
Under the Health and Safety at Work Act (1974), those who are self-employed are legally required to ensure that any work undertaken does not expose themselves, their clients, any employee or third party to asbestos. 
If you are responsible for undertaking work, or employing people to work, you are also responsible for ensuring that you prevent exposure to asbestos containing materials. The HSE have made a number of high profile prosecutions, and you will liable for prosecution should you not follow legislative requirements and HSE guidance. As an employee it is the responsibility of your employer to ensure that you have access to suitable training and to meet the requirements of the Control of Asbestos Regulations (2012). Ignorance of the law is not a defence.
Before you start any work on a non-domestic property (or a domestic property should it be classed as your workplace), there is a regulatory need to identify, via means of a suitable and sufficient assessment (or survey), whether asbestos is present or not. When working in any commercial or industrial building, you should ensure that you have familiarised yourself with the asbestos survey for the building, which should be in place before you start. If you are making alterations to the fabric of any building, including homes and private residences (if they are your workplace) it is your responsibility to ensure that asbestos fibres are not being released. 
Surveys for asbestos, generally take two forms – Management Surveys and Refurbishment / Demolition Surveys. A Refurbishment / Demolition survey is structurally intrusive, is a legally required and must be completed before any refurbishment work can begin. A Management survey is aimed at those managing the day to day maintenance of a building and so will only cover the cosmetic elements of a building, with limited intrusive inspections in areas of high maintenance, and therefore will not go into enough depth and detail to support a refurbishment or construction project. 
You can refuse to work on a building that has not been sufficiently assessed for risks from asbestos materials. If a survey has not been carried out on the property, you should assume that everything is asbestos, and contact an asbestos professional who can help. Remember – if you are unsure if asbestos is present or whether the correct type of survey has been conducted, stop work, speak to your employer or client and ensure that a suitable risk assessment is undertaken before commencing work.
For more information on anything in this article, to enquire about getting some advice on how to manage your asbestos problem, or for training on asbestos, please call us on 0485 456 9953, or email enquiries@environmentalessentials.co.uk